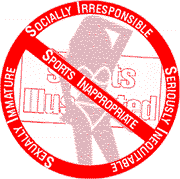 HINTS FOR THE SPORTS ILLUSTRATED SWIMSUIT ISSUE MILLENNIUM 100/100 FREE SPEECH CAMPAIGN
We would like to get 100 people to collect 100 SI subscription cards each by February, 2000.
1. Agree to collect subscription cards. Try to find cards that are postage paid by SI.
2. Find a friend who will do the same.
3. Places where you may be able to find subscription cards include:
a.1) Local library: Find out if your local library carries SI and ask if you can have the subscription cards. There could be two or more per issue. We have had great success with this. High school libraries also often carry it.

b.) Used magazine stores: Check used magazine stores and ask if you can have the subscription cards.

c.) Subscribers: Ask family and friends if they know any one who subscribes to SI.

d.) Professional offices: In the waiting rooms of professional offices, check for SI.
4. Write a protest on each card, such as "SISI demeans women" or "Women's bodies are not for sale" or SISI with a slash through it. Have a rubber stamp made or get "address stickers" printed with these statements.
5. On the day in February, 2000 that the SISI is released put all 100 cards in the mail. SI will get 10,000 protest cards for which they will have to pay postage and we exercise our free speech!
The Social Action Committee for Women's Psychological Health
Mary Anne Layden, Director
3741 Walnut Street #404,
Philadelphia, PA 19104
215-898-4106
---
Instructions for printing the Sports Illustrated Stickers to put on the SI postcards
1. Purchase 2 l/2 inch circular Avery-Dennison Labels (#5294). You can get them at Office Max or order them directly from Stanley-Taylor Stationers at 1-800-845-1781.
2. Download this Sports Illustrated Avery-Dennison Label's Page. Further Instuctions about Acrobat .PDF documents.

3. Then print em, and stick em on the SI subscription page, write your own personal free speech message and drop them in the mailbox.
Print out SI Stickers Avery-Dennison Order #5294. You can also print out on a regular sheet of paper and adhere them to the cards yourself.