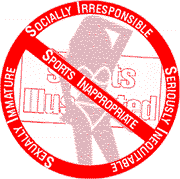 SPORTS ILLUSTRATED SWIMSUIT ISSUE 100/100 FREE SPEECH CAMPAIGN
Linnea's Letter to SI Advertisers
Boycott 2001 Sports Illustrated Advertisers
Media Action Alliance
Improve Women's Image in Sports
Sports Illustrated Letters

RESPONSES TO LINNEA'S SPORTS ILLUSTRATED ACTIVISM

Phil Mushnick

Check out Art Chansky's great column talkin' 'bout Linnea Smith and talkintrash.com
TOP 10 WAYS SPORTS ILLUSTRATED DISRESPECTS WOMEN

America Says NO to the Sports Illustrated "Swimsuit Issue"
LinneaSmith
Project Director

Nikki Craft
WebCrafter
For more information, contact:
Linnea Smith, M.D.
P.O. Box 16413
Chapel Hill, NC 27516
AMERICANS FOR FAIR SPORTS JOURNALISM
SAY: "SLAM DUNK THE SWIMSUIT ISSUE' "
"Time Warner should stop publishing the Sports Illustrated 'swimsuit issue' altogether. Female athletes of all colors deserve the same respectful reportage in Sports Illustrated that male athletes receive." -- John Stoltenberg, cofounder of Men Against Pornography

At last... After years of media and public calls of foul play, even Sports Illustrated has begun backing off from their infamous swimsuit issue and has published it as a separate "men's" magazine in 1997, and has offered a swimsuit-issue-free annual subscription! Now is the time for advertisers especially to continue to back off on any support as well and redirect advertising dollars to issues of Sports Illustrated that represent serious sports journalism... and not discriminatory and subjugating "sport" with women. Its time to value the ability and dignity of all athletes--men and women, boys and girls. I hope that you will stop and think about the values of sex being used to sell--and what your support of this misguided use of sex says about you, your opinion of women, and your view of " respect as the center of the circle of community."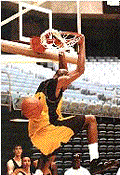 The work to educate and influence is ongoing. Even SI has taken a significant step and opted to publish the swimsuit issue as a separate magazine. One has to wonder why even SI has joined the public and distanced itself from its own unsportsman-like, nonsports journalism. What about You?
Pornography-influenced media is a public health concern and a social justice issue. And we need to make a concerted effort to be sensitive to these issues, especially in publications with a significant juvenile readership, in this day and age with such serious problems as HIV, AIDS, and pervasive sexual violence against women and children. How are sexual shenanigans portrayed by the swimsuit issue different from old school porn attitudes at their worst? They are all archaic and discriminatory. Even Sports Illustrated is embarrassed. It isn't good for sports, It isn"t good for women, it isn't good for anybody. Sports are all about good health, fair competition, mutual respect, cooperation and character development. According to the book Sex, Power and Violence in Sports, one of the eleven strategies for improving sports include fighting sexism in sports media.
The final report of the comprehensive Knight Commission on Intercollegiate Athletics in March 1993 summed up the challenge perfectly. "The equity issue transcends athletic politics because it goes to the heart of what higher education is all about. Colleges and universities advance their intellectual mission by placing a premium on fairness, equality, competition and recognition of merit. These values are as important in the department of athletics as in the office of the dean. Keeping faith with student-athletes means deeping faith with women as well as men." What better way to keep the faith than to take a stand against this flagrantly discriminatory practice! How can a sports publication subscribe to what the Knight Commission stands for AND support a swimsuit issue? How can you?